This is the IMRU Community Calendar featuring all
the best things to do and see under the rainbow of Southern California
Tuesday, November 15
SPECIAL BENEFIT SCREENING! GIRLS WILL BE GIRLS -- The original cult hit on the Big Screen
SPECIAL GUESTS! LIVE ON STAGE!: EVIE HARRIS & MISS COCO PERU!
Join Evie and Coco for this one-night only event! We will be showing the original film,
GIRLS WILL BE GIRLS, on the big screen for the first time since it's 2003 premiere!
The evening will include:
the screening will be hosted by Evie and Coco!

a silent auction with costumes and props from the original film

a Q&A with Evie, Coco and Director/Writer Richard Day and the

and the world premiere of a trailer for the hotly anticipated sequel, Girls Will Be Girls 2012
THE RENBERG THEATRE - Village at Ed Gould Plaza, 1125 N. McCadden Pl., Los Angeles, CA 90038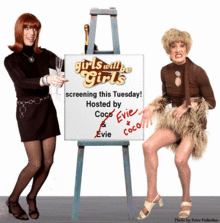 Tuesday, November 15 at 8 p.m.
Tickets: $15 - To purchase tickets, click here
November 11 thru December 18
WORLD PREMIERE: Who's Your Daddy? At The Victory Theatre
Who's Your Daddy? – The world premiere of a comedic true story about a single, gay man's struggle to adopt against all odds. No one expected Johnny O'Callaghan (Stargate Atlantis) to ever become a father. But a documentary shoot in Africa becomes a 9 month adventure during which he finds a son… and discovers himself.
Written and Performed by Johnny O'Callaghan, Directed by Tom Ormeny, Produced by Maria Gobetti and Georganne Aldrich Heller, Presented by The Victory Theatre Center
Performances: November 11 through December 18
Fridays at 8 pm: 18, 25; Dec. 2, 9, 16
Saturdays at 8 pm: 19, 26; Dec. 3, 10, 17
Sundays at 4 pm: 13, 20, 27; Dec. 4, 11, 18
WHERE: The Little Victory Theatre, 3326 W Victory Blvd, Burbank , CA 91505
HOW: 818-841-5422 or www.thevictorytheatrecenter.org
TICKETS: $24-$34
Wednesdays-Sundays thru November 19
WHAT'S WRONG WITH ANGRY? at The Celebration Theatre
"Director Michael Matthews and a terrific cast inspire us in this impressive production of WHAT'S WRONG WITH ANGRY? They skillfully deal with a difficult and important subject. This opening show of the new season for the Celebration Theatre Company continues its string of winners!" – Performing Arts Live
Thursdays thru Saturdays at 8pm and Sundays at 3pm
at The Celebration Theatre at 7051 Santa Monica Blvd, Los Angeles CA 90038
Telephone: 323-957-1884
for tickets, visit http://www.celebrationtheatre.com/
Saturday, November 19
On November 19th, City X presents "The Big Feast" for LGBTQ youth and allies at Plummer
Park in West Hollywood at 6PM. There will be live performances, free HIV testing, community
resources, special guests and more. For more info, visit http://www.cityx1.com/
Wednesdays and Thursdays, November 16 – December 15
WE'RE BACK!
In order to quell the rioting in the streets, we're bringing back the show for a limited engagement:
8 SHOWS ONLY!
Nov. 16th - Dec. 15th
Weds and Thurs Nights at 8 pm
"Hilarious, profane, touching... one of the funniest performances I've seen in a long time, a tour de force by Bottrell... Cathartic and uplifting"
-- John Rabe, SoCal Public Radio
Writer-Actor David Dean Bottrell ("Boston Legal") shares an oddball collection of HILARIOUS, SAD, BIZARRE (and yes) COMPLETELY TRUE STORIES -- all of which have something to do with "LOVE." Directed by Jim Fall. Produced by Andrew Carlberg.
GET TICKETS NOW!
Nov. 16th - Dec. 15th
Weds & Thurs Nights at 8 pm
Rogue Machine at Theatre/Theater
5041 W. Pico Blvd. (West of LaBrea)
Los Angeles, CA 90019
Tickets at http://roguemachinetheatre.com/wordpress/show-info/david-dean-bottrell-makes-love
Or Call: 323-930-0747 / Street Parking
Thanksgiving Desert Outing, November 24 – 27
Thanksgiving Desert Outing - Come join the GLS family (limited to 30 participants) for a wonderful Thanksgiving dinner at our hotel in Beatty, Nevada, on Thurs. Nov 24. We will be staying where the action is! Enjoy evening entertainment and scenic exploration / hiking during the day. For easy and interesting hikes Barbara will be leading an URBAN GHOST TOWN WALK. On another day she will be walking around the Ubehebe Crater, visit the renowned and beautiful Scotty's Castle. Susan has scouted out something NEW this trip that you won't want to miss if you are so inclined and fit (leader's approval required). We will climb Whaguyhe Peak (second highest in the Grapevine Mts.) and another surprise, reachable only by high clearance vehicles. This trip includes Thanksgiving dinner, some fun surprises at the hotel and 3 nights lodging, nonsmoking two per room for a total of $130 each. (If you need a single room the total is $234 with no roommate.) To reserve your spot you must first e-mail Susan Campo. Your reservation will be confirmed when you send your check made out to GLS to the address she will indicate. susanlucillecampo@yahoo.com.
For more info, go to: angeles.sierraclub.org
Sunday, December 4
What Matters Most Anniversary/ Fundraiser
5-6 p.m. (promptly) - Champagne Reception/Tray Pass
6-7 p.m. - Entertainment/Awards Presentation
Maulana Karenga, Key Note Speaker with special guest appearance by song stylists, Jeffrey King)
7-8 p.m. - Afterglow/Cash Bar
4000 Washington Boulevard
Los Angeles California 90019
Admission $30
Attire: Holiday Dressy
Open Seating
Event Information: 323-733-4868
Monday, December 5
THE VILLAGE VARIETY PACK with your hosts Dennis Hensley and Michael Anthony
Hosts Michael Anthony and Dennis Hensley invite you to dive into a delicious mix of stand-up and sketch comedy, music, interviews, videos and surprise guests at our old-fashioned variety show where anything can happen! Our community's hottest young musicians, comedians, performance artists and behind-the-scenes talents take the stage to do what they do best!
Next show: Monday, December 5, at 8 p.m.
Cast will include:
Cabaret Act Mack & Poppy (the sweethearts of the Florida panhandle!)
Comedienne Penelope Lombard
Singer/Male Actress/ Unicyclist JHO
Stand-up Comic Sarah Mozal
And much more!
"Supporting the L.A. Gay & Lesbian Center has never been so easy - or so fun!" ~Frontiers
"Where does one go for variety-type entertainment on a Monday night? Thank the gays for bringing us The Village Variety Pack!" ~LA Weekly
THE DAVIDSON/VALENTINI THEATRE
Village at Ed Gould Plaza
1125 N. McCadden Pl.
Los Angeles, CA 90038
Next show: Monday, December 5 at 8 p.m.
Tickets: $15
For more information, go to: L.A. Gay and Lesbian Center - On Our Stages
 

* * * RECURRING WEEKLY EVENTS * * *
MONDAYS
GAY SALSA NIGHT: If you remember the Salsa Dances at Rudolpho's back in the 90's and early 2000's, or just want to give your dancing shoes a work out, check this out!! Mambo Infierno brings you Gay Salsa Night every Monday at Little Temple in Silverlake,CA. We provide a salsa dance instructor for beginners. Dance class starts at 8:30pm. Enjoy the salsa music with DJ FRANK - the best salsa dj in LA! $5 Cover. Go to http://www.myspace.com/gaysalsanight for more information!

WOMEN'S GROUP AT the SOUTH BAY LGBT CENTER: The South Bay LGBT Women's Group hosts a Women's Group at the Center. All interested women at any stage of life, love, liberty, and the pursuit of happiness are welcome to attend this group, which provides a safe and welcoming environment to meet, socialize, build friendships, and support the South Bay LGBT Center. Guidelines will be reviewed each week to ensure fairness, confidentiality, and respect for diverse opinions. $2 donation appreciated. Info: Voice mail: 310-328-6550, email: womensgroup@southbaycenter.org
LGBT Center - 16610 Crenshaw Blvd., Torrance, 90504 (310-328-6550)
TUESDAYS
IN THE MEANTIME MEN'S GROUP (ITMT) hosts discussion groups as follows:
BROTHERS REACHING BROTHERS DISCUSSION GROUP from 7:30pm - 9pm at The Village Health Foundation Community Room on W. Pico Blvd., Los Angeles, CA 90019. The purpose of the group is to enrich, empower, and extend the lives of intergenerational black men, respectful of sexual orientation, through social, educational, health and wellness programs and services." For more info: visit www.mylifemystyle.net
THE KICK BACK DISCUSSION GROUP FOR YOUNG MEN 29 and UNDER: Every 2nd and 4th Tuesday of the Month from 7-9 p.m. at the New Drop-In Community Youth Center, 4067 W. Pico Blvd, Los Angeles, CA 90019 — 323-733-4868
Free and Open — Refreshments served
www.inthemeantimemen.org — www.mylifemystyle.net
The mission of IN THE MEANTIME MEN'S GROUP is to enrich, empower, and extend the lives of intergenerational black men, respectful of sexual orientation, through social, educational, health and wellness programs and services." Over the past 10 years In The Meantime has been on the forefront of creating an environment that supports, empowers and educates black, gay, same gender-loving and bi-sexual men in Los Angeles County. Through an integrated holistic approach to wellness, In The Meantime (ITMT) focuses on the mental/emotional, physical, spiritual, and economic well being of a community that is oftentimes isolated and excluded from mainstream society. ITMT facilitates three home-grown HIV/AIDS empowerment prevention programs, two (weekly) social discussion support groups, peer and group counseling, a black men's wellness conference, a three day men's empowerment retreat, the SOLA Meth Crystal Meth Taskforce, and the South Los Angeles Black Gay Men's Taskforce, computer training, a quarterly community publication (Message In The Meantime), an online weekly newsletter, and a host of community and cultural events that focus on community building that include a King Day Celebration and a Kwanzaa Celebration. ITMT'S most recent program addition is a community drop-in center that provides a relaxed social environment for youth programming, and HIV/AIDS testing and counseling activities.
WEDNESDAYS
GRIFFITH PARK CONDITIONING HIKE: Gay and Lesbian Sierra Club has a weekly Griffith Park Conditioning Hike every Wednesday night at 7pm. Join the Sierrans for a moderate hike of 5 miles to Mt. Hollywood with an eleven hundred foot gain. Lug-soled boots are best for traction, but some hikers wear sneakers. Bring a flashlight if you're not used to hiking in the dark. Rain cancels. That's every Wednesday, 7 p.m. sharp by the flagpole near the vending machines at the Griffith Park Visitors Center. Check out other gay and lesbian Sierran outings at http://angeles.sierraclub.org/gls/
SUNDAYS
GOOD SHEPHERD CHURCH Sundays at 2pm: Good Shepherd Church at 570 East Orange Grove Blvd in Pasadena is a congregation of full inclusion. All are welcome regardless of race, gender, sexual orientation or sexual identity. An LGBT Church and so much more... "We warmly welcome the LGBT Community and its allies. We are a Christian independent congregation and not connected with any denomination. We affirm that God loves and cherishes all His children, and has shown His love through the sacrifice of Jesus Christ. We invite you to join us, regardless of your religious or denominational background." For more info, go to: goodshepherdpasadena.com
You can find information on these and other events listed at the public Google IMRU Community Calendar which can be viewed/printed in monthly/weekly/daily or agenda forms. We also blog about important happenings at imru.posterous.com where you can leave comments or suggestions and crosspost links to the Calendar on Twitter as well as our Facebook page—so it pays to be a Friend and to Follow Us.