Hau'oli Makahiki Hou!  -  Happy New Year!  -  ¡Próspero Año Nuevo!  -  Manigong Bagong Taon!  -  Feliz Ano Novo!  -  Akemashite Omedetou Gozaimasu!   -  Ia Orana I Te Matahiti Api!  -  Prost Neujahr!
Today's Segement Featured an interview with Gerald Ross

Gerald Ross at the 2008 NYC Ukulele Festival
"Ukulele Hit Parade", Gerald's latest CD
http://geraldross.com/
Recent "Ukulele Spotlight" shows can be heard here.
This show is also podcast, here is the xml link :
January 2010 So Cal Ukulele Events
---
2009 was a great year for Ukulele lovers, and 2010 is starting off with a whole buncha great events for fans of the Ukulele and Hawaiiana!
Check the list for events that appeal to you, find a uke club in your neighborhood or take a Ukulele cruise!


Friday January 1st 8am - Noon KTLA Channel 5, ABC TV, NBC TV, etc.
The 121st Tournament Of Roses Parade.
Not a Ukulele event at all!
But if you watch the parade, look out for the Jack In Box Float. You may see "The Ukester" himself, Ali Lexa playing percussion with his Samba group. The theme on the Jack In Box float is "Brazilian Carnival" and we're supplying all the music and dancers on, and around the float!


Sunday January 3rd 5-8pm
Rick Jitchaku
Back Home in Lahaina
519 E. Carson St. 90274
(310) 835-4014
http://www.myspace.com/rickjitchaku



Friday, January 8 at 8:00 p.m.
Ukulele Bartt & Elvis -
Celebrate Elvis Presley's 75th birthday with the Ukulele Bartt Sextet.
It's Elvis' 75th, so there will be Elvis songs all night... on ukes and other things!
TONS of special guest performers and fun thingies.  All ages - kids are welcome!
FREE ADMISSION if you say the secret word: "ELVIS-SCHMELVIS"
Kulak's Woodshed
5230 Laurel Canyon Blvd.
North Hollywood, CA, USA
if you're not in Los Angeles, watch the show live on the Internet at http://kulakswoodshed.com/
More details at Bartt.net

... And speaking of Elvis' 75th Birthday, Jumpin Jim's latest book is sure to release the Hound Dog trapped in your Uke!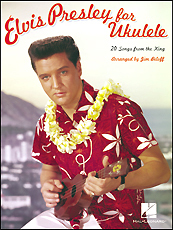 http://www.fleamarketmusic.com/store/scripts/prodView.asp?idproduct=62

Wednesday 13 January at 7:00 PM
Free Slack Key Show with Jim Kimo West
Acclaimed Hawaiian "slack key" guitarist, JIm "Kimo" West plays a free show in this charming South Bay town. Special guests too!
Where: Manhattan Beach Public Library
1320 Highland Ave, Manhattan Beach


Thursday, January 14th from 5-8PM
Tani Waipa & Warren Kaneao
Mai Tai Bar & Grill
Long Beach, CA

Thursday, January 14th from 7:30 to 8:30
"Jumpin Jim" and "Leapin Liz" Beloff will be performing at Island Bazaar. They'll be playing songs from their new "Rare Air" CD. If you haven't heard Jim and Liz live before, I highly recommend checking them out. They're great singers and Jim's strumming technique is one of the best I've ever heard.
They'll also, of course be at NAMM in Anaheim, for you "industry" types.
Island Bazaar
16582 Gothard St., Suite R,
Huntington Beach, CA 92647
http://www.ukuleleparadise.com/


Friday, January 15th 7 PM
Ukulele Ray, and his band The KoKoNutz, will be in the Fender Acoustic Booth at NAMM in the Anaheim Convention Center on Friday, January 15 at 2:30 & 4:30pm  at 2:30 & 4:30pm. Ukulele Ray in-person with a LIVE performance and demonstration of the latest Fender Ukuleles. (Not open to the public, Industry only).
For more information on Fender® ukes..  http://www.myspace.com/fenderukes
Friday, January 15th 7 PM Workshop
Gerald Ross is coming to Island Bazaar in Huntington Beach, CA.
Hot off of his success at the So Cal Ukulele Festival, Gerald will bring his superb musicianship to our comfortable stage at the end of SoCal's NAMM week.....it'll be CROWDED!
He'll do a uke workshop on Friday, Jan. 15th, 7-9PM for $15; and then the big concert Saturday, Jan. 16th, 8-10PM. Tickets can be had by calling Island Bazaar at 714 843-9350.
Island Bazaar
16582 Gothard St., Suite R,
Huntington Beach, CA 92647
http://www.ukuleleparadise.com/


Saturday, January 16th 8 PM Concert
Gerald Ross
Island Bazaar
16582 Gothard St., Suite R,
Huntington Beach, CA 92647
http://www.ukuleleparadise.com/


Saturday, January 16th from 6-9PM
Tani Waipa & Warren Kaneao, and friends
Back Home in Lahaina
519 E. Carson St. 90274
(310) 835-4014

Saturday, 16 January 7:00 pm  - 10:00 pm
An Evening with Steven Espaniola & Friends
Join award winning Hawaiian recording artist Steven Espaniola as he returns to Southern California for an exclusive engagement in the intimate setting of Happa Restaurant in Gardena. Steven's electrifying band will be making their SoCal debut alongside him featuring Bobby Santos (percussion), Kawika Loo (bass), Brian Hill (guitar), & from One Groove, the ki ho'alu artistry of Kris Kanoho. Join us for what promises to be an unpredictable and incomparable evening of stellar Hawaiian music! There may even be a few special, surprise guests!
Happa Restaurant
1641 W Redondo Beach Blvd
Gardena, CA
Tickets: $15 (before 12/31/09) $20 (after 12/31/09)
Available at: http://www.dhcdesigns.com/stessocacowo.html or
Call: 310.339.7205


3rd Annual So Cal Slack Key Festival Sunday January 24th 2 pm
The best of the best Hawaiian slack key guitarists all on one stage in sunny Redondo Beach CA
2010 lineup: Cyril Pahinui and the Pahinui Hawaiian Band, Makana, Jeff Peterson, Jim "Kimo" West, Ledward Kaapana and John Cruz!
Redondo Beach Performing Arts Center
1935 Manhattan Beach Blvd
Redondo Beach, CA
Tickets on sale now at www.KalaKoa.com.
Details at http://www.socalslackkeyfest.com


Ukulele Cruise January 24th - 31st 2010
Join Susan McCormick, Lil' Rev and other great instructors for a fun-filled 7 day cruise to the Mexican Riviera, that includes hours of Ukulele and Hula classes, a welcome aboard party, jam sessions, hula sessions and even a talent show! Additional details are located at:
http://www.seacruises.com/uke


Lil' Rev will be playing a number of shows in California including:
Jan 11th S.L.O 6pm San Louis Obispo, CA
Jan 12th Sydney Creek 6:30pm SLO, CA
Jan 13th The Village @ The Palms 3pm SLO, CA
Jan 16th The Steynberg Gallery 8pm SLO, CA
Jan 17th  Huntington Beach @ Bqui's   3pm Huntington Beach, CA
Jan 22nd  Bills Place 8pm Los Angeles, CA
Jan 23rd  South Bay Strummers 9:30am Torrance, CA
Jan 24/31st Uke Cruise 2010  Royal Caribbean/Mexican Rivera
Info, details on shows and Rev at: http://www.lilrev.com



_________________________________________________________________


Other Items of interest to Ukulele Fans:

"MIGHTY UKE" the new motion picture about the Ukulele revolution will have a premiere screening in Los Angeles sometime in February!
Stay tuned. More info here: http://mightyukemovie.com/
The geniuses of "Sheep Entertainment" over at http://www.ukulele.nl have created an AWESOME ukulele chordfinder app for the iPhone!
_______________________________________________________________
Weekly Events

Every Sunday:
Makena
10:00 am
Center for Inspirational Living
Long Beach Playhouse, Long Beach, California
More Info: http://www.myspace.com/makenamusic

Every Sunday:
Uncle Pete Naluai leads kanikapila music every Sunday morning at Bob's Okazuya.
10am - 4pm
Bob's Okazuya
16814 S Vermont Ave, Gardena, CA
(310) 515-2250

Every Tuesday:
Ho'alu Tuesdays
Come hear beautiful ki ho'alu performances by members of Southern California Slack Key Society on Tuesday nights at 6 p.m.
Kaisen Sushi Restaurant
1906 Oceanside Blvd. #H
Oceanside, CA - Phone: (760) 757-1484
P.S. Hiki i na mea hula ke hula ma 'o!

Every Friday:
Uncle Henry Kalana Kamae
4:00 PM - 8:00 PM
Uncle henry and pals play most every Friday night at Bob's Okazuya. Call ahead to be sure he is in.
Bob's Okazuya
16814 S Vermont Ave, Gardena, CA
(310) 515-2250

Fridays 7:00 PM - 10:00 PM
Island Breeze
Island Breeze is a talented trio of musicians who play contemporary Hawaiian music. In addition to accompanying the Lokelani's dancers, the band is available to provide entertainment for special events. Roy Asuega leads the group, singing, drumming, and playing guitar. Ron Reyes and Mata Grey play ukulele and bass while providing background vocals. Info: http://www.lokelanisroti.com/islandbreeze/
Garlic Jo's
2332 West Coast Highway
Newport Beach, CA

_______________________________________________________________
Ukulele Clubs (Over 16 clubs and counting!)

Every Monday at 9:00 am - 11:00 am
The Hemet Ukulele Club
New members are welcome. Bring your uke, banjo or guitar. Meetings are free.
Meets at The Simpson Center, 305 E. Devonshire Ave., Hemet, CA


Every Monday at 1:00 PM
The Corona Del Mar Ukulele club formerly at the Oasis Senior Center in Corona Del Mar
Everyone is welcome!
Notice: The group has moved to St. Michael's church.
The Oasis senior center is to be razed and rebuilt.
New Address is 3233 Pacific View Dr, Corona Del Mar, CA 92625 (949) 644-0463


2nd & 4th fourth Monday evenings 7:00 pm to 9:00 pm
The SLO Strummers of the Ukulele Society of the Central Coast. All levels of strummers are welcome!!
Meets at the Art Center in San Luis Obispo
1010 Broad St. (creekside door). For more information, call Carol at: (805)473-3457


Tuesday mornings 9am to 11am
The Loma Linda Ukulele Strummers (around 50 to 70 Ukulele players) meet every Tuesday morning.
For more information call 909 796-8934. All levels are welcome!
Loma Linda Senior Center, 25571 Barton Road, Loma Linda, CA 92354 (corner of Loma Linda Drive and Barton Road - behind the fire station and the library)


Every Tuesday 1-3 pm
Palm Desert Ukulele Strummers
Bring your Uke and join the fun. All levels are welcome.
Call Mike @ 760-835-6891 for more info.
44-600 Monterey Ave. Palm Desert,Ca 92260


Every Tuesday Night 7 - 9 PM
KOLOHE 'UKULELE CLUB
Formed in 2000 & meets for practice at "ISLAND BAZAAR" in Surf City U.S.A. every Tues Night of the month @ 7:pm. Under our Kumu UNCLE HENRY KAMAE, we play Hawaiian & Hapa Haole music and invites ALL levels of 'UKULELE PLAYERS to jam with us Island Style till 9:pm.
KOLOHE has performed at numerous festivals, & other functions. Remembah; "Mo 'Ukulele, Mo Beddah" .. Mahalo Nui Loa & A Hui Hou
For more info email kentinhb@verizon.net
Island Bazaar, 16582 Gothard St. "R", Huntington Beach, CA. 92647- 714-843-9350. www.Ukuleleparadise.com


Every Wednesday morning
PINEAPPLE JAM UKULELE CLUB
Beginning class meets from 9:30 a.m. to 10:15:a.m.-Jim Grundy
Full Club meets  from 10:30 a.m. to 12:30 p.m.-Glenn Clement
The Pineapple Jam Ukulele Club, has been meeting in Yucaipa since April 2006.
It is composed of players of all ages with various ability levels, that enjoy singing. New members are welcome to join us whatever their ability level.
Scherer Community Center
12202 First Street (at B Ave) Yucaipa Ca 92399
Phone: 909 797-1177  or 760-326-9230
Pineapple Jam Director Glenn Clement 951-836-8393


Every Wednesday 6 - 9 PM
Moonlight Beach Uke Strummers
A group of about 50 to 75 ukulele strummers (over 200 members on website) in Encinitas, North of San Diego.
BRING YOUR UKES AND JOIN US FOR A FUN TIME.
Members from our group are from many Hawaiian High schools like Kamehameha, Punahou, StLouis, McKinley, AIEA, DAMIEN, MARYKNOLL, ROOSEVELT, FARRINGTON, CASTLE, KAILUA.
Today's Pizza, 481 SANTA FE DR., at the intersection of Hwy 5 and Santa Fe Dr. at the Vons Rite-Aid shopping center in Encinitas.



Wednesdays 7:00 pm - 9:00 pm
Ventura Ukulele Jam
The Ventura Chapter of the Ukulele Society of America hosts its weekly ukulele jam at Java Joe's Coffee House in the Century 16 Center on Johnson Drive in Ventura, CA. Alan Ferentz is the Alaka'i (Conductor). >From Alan -- "Please join us for our ukulele circle sing-along."
Java Joe's @ Century 16 Center, 2950 Johnson Drive, Ventura, CA
Every 1st and 3rd Wed. of the month from 5:30 to 7:30PM
The WINDanSEA Ukulele Strummerrs
meet for fun and the joy of the ukulele.
Everything is free. I even pass out the music for free. We invite all levels of skill.
We are in Pacific Beach. Across the street is La Jolla.
We meet at the Veterans of Foreign Wars Hall at 853 Torquiise Street.



Every 1st and 3rd Wed. of the month from 5:30 to 7:30PM
The WINDanSEA Ukulele Strummers meet for fun and the joy of the ukulele.
Everything is free.  I even pass out the music for free.  We invite all levels of skill.  We have some young players, one is 8 and she is a ring terror on the ukulele.  The age range is wide and so is the level----who cares, we have a good time.  Join us!
We are in Pacific Beach.  Across the street is La Jolla.
We meet at the Veterans of Foreign Wars Hall at 853 Torquiise Street.



Every Thursday from 10:30am to 12 noon
THE ORANGE BLOSSOM UKULELE PLAYERS
The Orange Blossom Ukulele Players meet at the Joslyn Senior Center in Redlands CA.
Our collection of songs covers various styles of music: Tin Pan Alley, Country, Spanish, Easy Listening, Hawaiian, etc...Bring your ukulele and be ready to sing with the Orange Blossoms!! We also welcome banjo, guitar, harmonica and other instrumentalists to join us for the fun. For more information call Cathy Ekaitis - (909) 875-1054
Joslyn Senior Center, 21 Grant Street, Redlands CA.



Thursdays 6:30 PM
'Ukulele Jam' 40 to 50 ukulele players come and strum their hearts out.
We also feature 2 or 3 soloists per session.
Lots of fun. We ask a small donation, but just walk past the "collector" if there is a problem or objection to a donation.
We love and wish to include all ukulele players who wish to come.
Standard American Songs Repetoire...20's, 30's, 40's, 50's, 60's, 70's, and so on. Beach Boys, Jimmy Buffet, and a large selection of tunes.
ISLAND BAZAAR, 16582 Gothard St. #R, Huntington Beach, Ca. 92647



Thursdays 6 - 9 pm
Ukulele Society of America (USA)
The group of 50+ ukulele players regularly meets on Thursday evenings in Carlsbad, CA (North San Diego County and South Orange County) to play ukulele, sing, and hula. Conducted by professional entertainer Pat 'Palika' Enos and often aided by the 101 year old, Duke of Uke, Bill Tapia. Guest Conductors also lead the group in song, a Kokua Team to help newcomers jam along on their first night, and an Open Mike to encourage advancing members to showcase their stuff. Our goals are to become a fun learning center for aspiring group leaders to learn from the pros and then move on to start and nurture their own groups across the country and to train our group members to lead small groups in outreach performances to the community (Children's hospital and Senior Centers).
All levels of ukulele players welcome.
Group website http://launch.groups.yahoo.com/group/Ukulele_Society_of_America/  (ask Captain Mike to join.)
Ocean House of Carlsbad Village (Palm Room)
300 Carlsbad Village Drive, west of the I-5 Carlsbad Village Drive exit, at the intersection with Pacific Coast Highway.
Carlsbad CA



Alternating Thursdays 7:15 - 9:30 PM:
The Jumpin Flea Circus Players Players Of Los Angeles
It's large, eclectic membership gathers twice a month in Sherman Oaks for ukulele fun and fellowship.
The Jumpin Fleas play songs from every time and place, though there's a fondness for tin pan alley, jazz standards, comedy and folk songs. Led by professor of uke Clay Allen, the first hour of the fleas meeting in dedicated to improving the musicianship of the players. The second hour reviews the club's favorite songs of the day. Come join us, won't you. You won't regret it!
Info: http://www.jumpingflea.tumblr.com
Church of the Chimes, 14115 Magnolia Blvd, Sherman Oaks, CA 91423



Every Friday from 10:30am to 12 noon
THE RIO-ALTAS UKULELE CLUB
The Rio-Altas gather at the Rialto Senior Center at 1411 S. Riverside Ave. Rialto, CA.
Our song book contains many styles of music: Tin Pan Alley, Easy Listening, Hawaiian, Spanish, Country etc... Bring your ukulele and be ready to sing with the Rio-Altas!! We also welcome banjo, guitar, harmonica and other instrumentalist to join us for a good time.
For more information call Cathy Ekaitis - (909) 875-1054
Rialto Senior Center,1411 S. Riverside Ave.,Rialto, CA.



Friday mornings 10:30 am
SURF CITY STRUMMERS- meet at Island Bazaar every Friday morning at 10:30am. We play standards of all eras and have opportunities to solo, also. About 40 players show up each week to start the weekend right. Please join us. $5.00 donation requested, but not mandatory. If you're visiting the Southland from out of the area, please come!
Island Bazaar, 16582 Gothard St. "R", Huntington Beach, CA. 92647- 714-843-9350. Ukuleleparadise.com



Saturdays 9:30 am - 11:00 am
The Southbay Strummers
Ukulele strummers of all ages and from all walks of life meet at the
Bartlett Senior Citizens Center, 1318 Cravens Ave., Torrance, California
(310-320-5918)
http://www.ukulelestrummers.com



Saturdays 1 - 2:30pm
Santa Barbara Ukulele/singing group meets every
Saturday at the East Beach Bath House from 1:00 - 2:30pm.
Bring a music stand, ukulele, and a portable chair.
There is street parking on Ninos in front of the Zoo.
Call ahead to make sure they are meeting: Paul Halula at 882-2495



Sundays 5 - 8 pm
Monterey's Ukulele Club
Gianni's Pizza
725 Lighthouse Ave
Monterey, CA.  Info: Steve Brooks (831) 624-7022


First Sunday Of Each Month 1-3 pm
Riverside Ukulele Liberation Ensemble.
RULE meets the first Sunday of each month at the Back to the Grind Coffeehouse on University Avenue in Riverside, CA, from 1 - 3.  For more information people can contact Jeff Odien at 951-505-9508 or at JeffOdi@msn.com or Bill Odien at ODIENIENN@aol.com